Janet Beazley
858-353-8668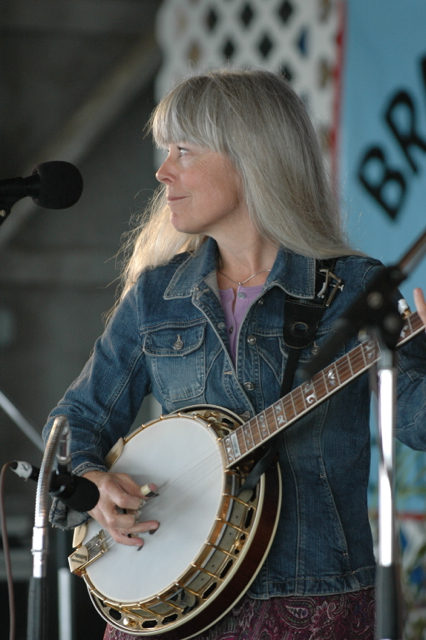 BIO:
Janet Beazley plays banjo and sings with the California bluegrass band Chris Stuart & Backcountry, and with the folk duo Chris Stuart & Janet Beazley
(http://www.chrisstuart.com). She has toured extensively with CS&B throughout the United States, Canada, the United Kingdom, Europe, and the Middle East. Janet has taught bluegrass banjo, harmony singing, music theory and song writing at many workshops, including Rivertunes, Midwest Banjo Camp, American Banjo Camp, Suwannee Banjo Camp, Augusta Heritage Center Bluegrass Week, California Bluegrass Association Bluegrass Week, Banjo Camp North, Munich Banjo Camp, and Sore Fingers Week in the UK.
Janet also plays and teaches classical music and holds a doctorate in Early Music from USC. She directs the Collegium Musicum (early music ensemble) and the Bluegrass Ensemble at UC Riverside. She is a sought-after clinician at early music and recorder workshops here in the West.
Janet teaches bluegrass banjo to students of all levels. She also teaches traditional and baroque flutes, recorders and whistles, beginning mandolin, beginning dobro, as well as viola da gamba.
---
Videos:
Slow Jam Sessions
Janet also leads monthly bluegrass and old time instructional slow jam sessions here in Poway and in San Diego. For more information please email her, or go to:
Janet performs her song "From Now On" with Chris Stuart & Backcountry
With Chris Stuart, guitar, John Mailander, fiddle, and Steve Roy, bass:
---
TEACHING STYLE:
MATERIALS USED:
Below are the lessons openings for Janet Beazley. Please find a time below and click the "register" button to sign up for a class.
Interest Form
Would you like more information on Emmanuel Sanchez's lessons, policies or procedures? Fill out the contact form below and Allison will contact you with more details. No obligation is made when filling out the contact form.
AVAILABILITY:
Register
Class
4205869
Interest List for Janet Beazley
Register
Interest List for Janet Beazley
Register
Class
4205869
Interest List for Janet Beazley
Register
Interest List for Janet Beazley